Events
Cheltenham Synagogue celebrates its 175th anniversary this year. We warmly welcome guests to join us for two very special events we have planned - the acclaimed London Klezmer Quartet will be joining us in the Synagogue on 28 May, and the owners of Highnam Court have kindly given us permission to explore their beautiful gardens on 22 June.
The London Klezmer Quartet Wednesday 28 May 7.30 pm
The London Klezmer Quartet, a wonderful group of performers, will be joining us in our historic Cheltenham Synagogue to play the celebratory and soulful music of the East European Jews. Their deep understanding of klezmer is reflected in exuberant, passionate and accomplished performances that captivate audiences of all ages and background. They play both traditional old arrangements and new material they have composed themselves.
"Dynamic and authentic" Time Out, London
"Exuberant yet cultured playing... The tradition is safe in the hands of the next generation." The Sunday Times
Tickets are £12.50 available from 1 May, if you would like to attend please send a cheque made payable to "Cheltenham Hebrew Synagogue" to the Synagogue (with SAE enclosed) or contact info@cheltenhamsynagogue.org.uk for queries or electronic money transfer. Do note that seating is not allocated and doors will open at 7.00 pm.
Celebration at Highnam Court Gardens Sunday 22 June 11.00 am - 4.00 pm
We are delighted to invite guests to join us for a very special afternoon at the beautiful Highnam Court Gardens. We will be exploring the magnificent gardens and grounds, extending to over 100 acres and mixing formal gardens with more extensive vistas of meadows, woods, lakes, parkland and specimen trees.
Originally landscaped in the 18th century, the Gardens were thoughtfully developed and have now been lovingly restored and added to by their present owners.
Our itinerary for the day includes a guided tour, pot decoration and seed planting for children and a special opening of the Grade 1 listed Highnam Church. Homemade refreshments will be for sale in the Orangery throughout the day.
| | |
| --- | --- |
| 11 am - 4.00 pm | Gardens open. Refreshments for sale in the Orangery. |
| 12.00 pm - 2.00 pm | Decorate a pot and plant seeds in it - an activity for children in the Orangery. |
| 2.00 pm - 3.30 pm | Guided tour of Highnam Court Gardens. Feel free to join for just part of the tour. |
| 2.00 pm - 4.00pm | Opening especially for us: Highnam Church, a Grade 1 listed Victorian Church consecrated in 1851. Containing frescoes painted by Thomas Gambier Perry, the architecture is gothic revival style. Walk across for Highnam Court Gardens or drive |
| 3.30 pm | Cutting the Anniversary Cake and a reading of a poem specially composed for the Anniversary event - "A Lead of Faith" |
The £5.00 entry fee includes a guided tour of the gardens, access to Highnam Church and safe parking. Children are welcome to join us for free.
Do note that some areas are not accessible for wheelchair users but there are suitable toilet facilities. Assistance dogs only please.
For further details please email
info@cheltenhamsynagogue.org.uk.
The Gardens are located just west of Gloucester. We would be grateful if guests please enter only by the main gate. Please put Highnam Court into your satnav rather than the post code to avoid being directed to the private entrance.
Highnam Court, Highnam, Gloucester, GL2 8DP
Our flyer for the day can be downloaded here [433kb].
Most computers will open the flyer automatically, but you may need Adobe reader.
We are grateful to the owners of Highnam Court, Mr and Mrs Roger Head, for their kind permission to make use of the gardens.
Recent Members' Events
Passover
A traditional Seder (Service) was shared by the Community on the second night of Passover. The story of the Exodus was told and how the Jewish people were able to leave slavery in Egypt.
National Holocaust Memorial Day January 2014
The impact of the Holocaust on our local Jewish communities during the Act of Remembrance was made very clear. Readers read out the names of loved ones and how they were related as the words flashed onto a screen. "My Grandfather, my Grandmother, my Uncle …" brought the personal nature of loss not just close to home but inside the front door and sitting next to us.
Personal reflections by Reverend Canon Roger Symon linked the presentations. The Mayor of Cheltenham Councillor Wendy Flynn reminded us that the first step to genocide is not to respect the differences of others and this was expressed in a modern context by Martyn Horwood MP. The chosen and choices featured in the Lord Lieutenant Dame Janet Trotter's reading, also selected to encourage reflection and thought.
An exhibition featuring original relevant artefacts and documents was focus for further discussion after the Act of Remembrance. The theme of "Journeys" was illustrated through the stories of our families and friends, stories of discrimination and persecution, of exile and genocide.
It is hoped that an exhibition will be staged again next year.
Rosh Hashanah.
Reverend Malcolm Weisman led a pre Yom Tov session on the prayers of Rosh Hashanah. He drew special attention to the "we" in the prayer Avinu Malkenu and commented on how social responsibility contributes to the well being of us all.
Reverend Weisman also joined the community earlier in the year to give an enlightening talk: "Some Aspects of the Jewish Experience as seen through the First Paragraph of the Shema". The prayer reflects the history of the Jewish people and is the core of Jewish heritage. Rev Weisman led a study session on the meaning that can be derived from the text and how it has influenced Jewish practice. We discussed the prayer's significance for the survival of Judaism as a separate community and the importance of education.
Malcolm Weisman with Lea Elliott (left) and Abigail Fisher (right)
Questions led to further stimulating discussion over tea and cake.
Purim

We gathered together at a community member's home to remember Hamen's defeated plot to exterminate the Jews in Persia. As is traditional, we read the Book of Esther, blocking out Hamen's name with gragers, whistles and shakers.
Wine, tea and hamentaschen were enjoyed by all.
Chanukah
We held our Chanukah celebration this year in Hatherley Village Hall, enjoying traditional latkas and viennas. Miss Abigail Fisher told the young, and the not so young, the story of Chanukah, how the Jewish people survived a very difficult time and why we celebrate by lighting candles and eating foods cooked in oil.
The children lit the candles of five menorahs to celebrate Chanukah's second night. Mr Allan Sanis then gave a reading which talked about what the significance of each each of the Chanukah candles might be.
The communities charitable act for Chanukah was collecting foods, especially festive ones, for the County Community Project. We thought it especially appropriate to support people through hard times.
Quiz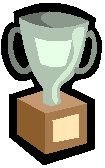 In February, the now annual tradition of a quiz was closely fought and narrowly won by The Six Smarties, with a particularly impressive knowledge of sport and finely attuned taste buds. Naturally, there was a Challenge Cup to be won and the winners' names have been engraved for posterity..
Summer Lunch
Clear blue sky and hot sunshine completed the Summer Lunch's Mediterranean theme perfectly in June when guests relaxed and ate al fresco. Funds were raised by a raffle with many prizes and a book and video stall on the day.
Chief Rabbi Lord Sacks visits Cheltenham
Lord Sacks, Chief Rabbi of Great Britain and the Commonwealth held us spellbound when he addressed the Community and guests in the Synagogue in spring 2011. He spoke powerfully and enthusiastically about small communities and how they can and do play a role disproportionate to their size. This was illustrated with biblical as well as modern examples.
A report in the Jewish Chronicle quoted Lord Sacks as saying "It was wonderful to discover this gem of a Synagogue. It is a miniature treasure to be cherished and it was wonderful to see how the small but enthusiastic congregation are keeping it, and Jewish life, alive in this lovely part of Britain. I came away surprised, inspired and enthused."
And so did we.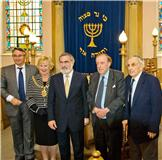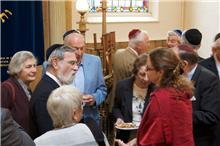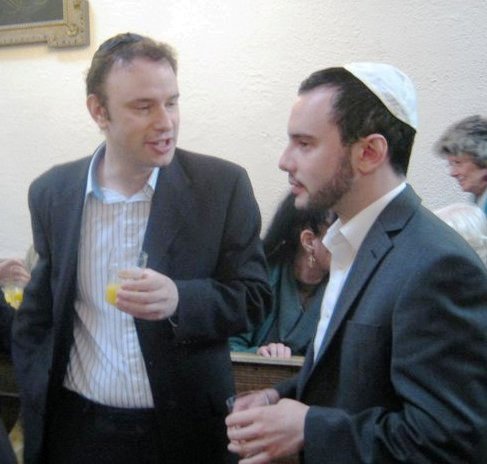 Left: Martin Horwood MP, Anne Regan Mayor of Cheltenham, Chief Rabbi Lord Sacks, Rev Malcolm Wiseman, Michael Webber Chairman of Cheltenham Hebrew Community; Middle: Chief Rabbi Lord Sacks speaking with Abigail Fisher: Right James Silverston and David Silverston
Interfaith
The Cheltenham Hebrew Community is actively involved with local Inter Faith Activity and has participated in a number of recent events.
For information about Cheltenham Inter Faith and its events, past and future, do visit cheltenhaminterfaith.org.uk.
---
The Community Year
Highlights of our calendar include both the religious - a communal Seder at Pesach, a Purim party and a Chanukah tea - and the purely social - such as quizzes, brunches and garden parties. Where appropriate, we read in both Hebrew and English to allow everyone to participate.
Our annual quiz attracts fierce competition, often leading to a nail-biting conclusion to win the coveted CHC Challenge Cup. In May of each year, we celebrate the inauguration of the Synagogue with a brunch.
Further opportunities for members to come together are provided by members who informally arrange groups to attend concerts and lunches. We welcome good ideas for new events and volunteers to help organise them!
Women's Association of Cheltenham Synagogue (WACS)
The Women's Association has been running for over 50 years. It is a warm social network that plays an important part in organising many of the Synagogue's events and has raised funds for a range of good causes. The monthly meetings provide a good place for making and renewing friendships.
Jewish Film Group
We show a range of films, generally with a Jewish theme. Naturally all members and their guests are welcome to attend and make suggestions for future screenings.
A recent showing was "Bee Season" which focuses on a gifted, dysfunctional, American Jewish family and is based on the novel by Myla Goldberg.