Events
Recent Members' Events
Rosh Hashanah.
Reverend Malcolm Weisman led a pre Yom Tov session on the prayers of Rosh Hashanah. He drew special attention to the "we" in the prayer Avinu Malkenu and commented on how social responsibility contributes to the well being of us all.
Reverend Weisman also joined the community earlier in the year to give an enlightening talk: "Some Aspects of the Jewish Experience as seen through the First Paragraph of the Shema". The prayer reflects the history of the Jewish people and is the core of Jewish heritage. Rev Weisman led a study session on the meaning that can be derived from the text and how it has influenced Jewish practice. We discussed the prayer's significance for the survival of Judaism as a separate community and the importance of education.
Malcolm Weisman with Lea Elliott (left) and Abigail Fisher (right)
Questions led to further stimulating discussion over tea and cake.
Purim

We gathered together at a community member's home to remember Hamen's defeated plot to exterminate the Jews in Persia. As is traditional, we read the Book of Esther, blocking out Hamen's name with gragers, whistles and shakers.
Wine, tea and hamentaschen were enjoyed by all.
National Holocaust Memorial Day January 2013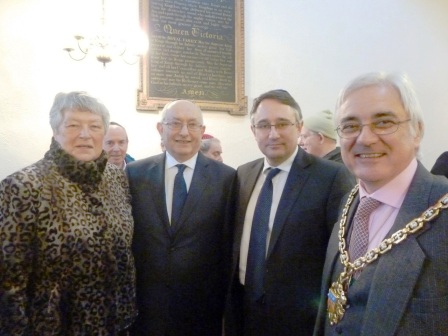 Cheltenham Hebrew Congregation and the Gloucestershire Liberal Jewish Community, joined by members of Cheltenham Inter Faith and invited guests including Dame Janet Trotter, HM Lord Lieutenant of Gloucestershire, Councillor Colin Hay, Mayor of Cheltenham and local MP Martin Horwood, met at Cheltenham Synagogue to remember those who died in the Holocaust. In all, more than 100 people assembled.
Prayers were said, individually and collectively, in Hebrew and English, music was played and stories were recounted of both sadness and hope. Dame Janet selected a moving reading from Jacob Bronowski's "The Ascent of Man".
In conclusion picking up on the 2013 theme of 'Building Bridges' Jenny conveyed the message of Holocaust survivors as expressed by the Chief Rabbi, Lord Sacks. The message is "Don't hate, love the stranger, for how we treat strangers is the test of our humanity and above all remember, for without memory a civilisation travels blind."
Chanukah
We held our Chanukah celebration this year in Hatherley Village Hall, enjoying traditional latkas and viennas. Miss Abigail Fisher told the young, and the not so young, the story of Chanukah, how the Jewish people survived a very difficult time and why we celebrate by lighting candles and eating foods cooked in oil.
The children lit the candles of five menorahs to celebrate Chanukah's second night. Mr Allan Sanis then gave a reading which talked about what the significance of each each of the Chanukah candles might be.
The communities charitable act for Chanukah was collecting foods, especially festive ones, for the County Community Project. We thought it especially appropriate to support people through hard times.
Quiz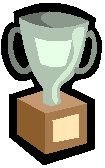 In February, the now annual tradition of a quiz was closely fought and narrowly won by The Six Smarties, with a particularly impressive knowledge of sport and finely attuned taste buds. Naturally, there was a Challenge Cup to be won and the winners' names have been engraved for posterity..
Summer Lunch
Clear blue sky and hot sunshine completed the Summer Lunch's Mediterranean theme perfectly in June when guests relaxed and ate al fresco. Funds were raised by a raffle with many prizes and a book and video stall on the day.
Chief Rabbi Lord Sacks visits Cheltenham
Lord Sacks, Chief Rabbi of Great Britain and the Commonwealth held us spellbound when he addressed the Community and guests in the Synagogue in spring 2011. He spoke powerfully and enthusiastically about small communities and how they can and do play a role disproportionate to their size. This was illustrated with biblical as well as modern examples.
A report in the Jewish Chronicle quoted Lord Sacks as saying "It was wonderful to discover this gem of a Synagogue. It is a miniature treasure to be cherished and it was wonderful to see how the small but enthusiastic congregation are keeping it, and Jewish life, alive in this lovely part of Britain. I came away surprised, inspired and enthused."
And so did we.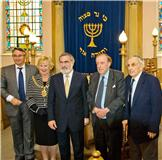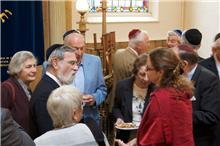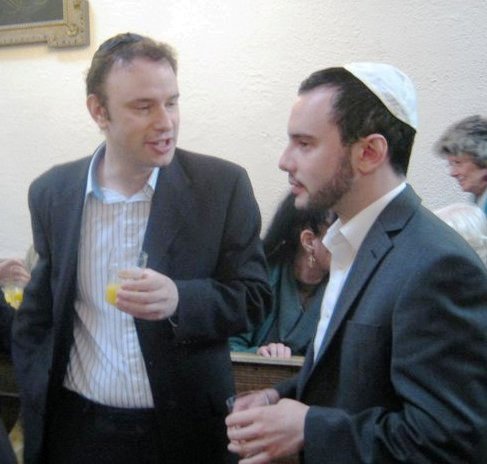 Left: Martin Horwood MP, Anne Regan Mayor of Cheltenham, Chief Rabbi Lord Sacks, Rev Malcolm Wiseman, Michael Webber Chairman of Cheltenham Hebrew Community; Middle: Chief Rabbi Lord Sacks speaking with Abigail Fisher: Right James Silverston and David Silverston
Interfaith
The Cheltenham Hebrew Community is actively involved with local Inter Faith Activity and has participated in a number of recent events.
For information about Cheltenham Inter Faith and its events, past and future, do visit cheltenhaminterfaith.org.uk.
---
The Community Year
Highlights of our calendar include both the religious - a communal Seder at Pesach, a Purim party and a Chanukah tea - and the purely social - such as quizzes, brunches and garden parties. Where appropriate, we read in both Hebrew and English to allow everyone to participate.
Our annual quiz attracts fierce competition, often leading to a nail-biting conclusion to win the coveted CHC Challenge Cup. In May of each year, we celebrate the inauguration of the Synagogue with a brunch.
Further opportunities for members to come together are provided by members who informally arrange groups to attend concerts and lunches. We welcome good ideas for new events and volunteers to help organise them!
Women's Association of Cheltenham Synagogue (WACS)
The Women's Association has been running for over 50 years. It is a warm social network that plays an important part in organising many of the Synagogue's events and has raised funds for a range of good causes. The monthly meetings provide a good place for making and renewing friendships.
Jewish Film Group
We show a range of films, generally with a Jewish theme. Naturally all members and their guests are welcome to attend and make suggestions for future screenings.
A recent showing was "Bee Season" which focuses on a gifted, dysfunctional, American Jewish family and is based on the novel by Myla Goldberg.