Brit Milah
A baby born from a Jewish mother may be considered Jewish. If he is a boy, he will be circumcised within 8 days of birth unless there are special reasons for delay. The Brit Milah (circumcision) relates to the covenant in which Abraham was commanded to circumcise himself, all male members of his household and his descendants.
The ritual itself most often takes place in the home and is conducted by a Mohel, often a specially trained Jewish doctor. A Mohel from London, Dr M Harris, has offered his services to the community - for more details his website is www.circumcisionlondon.co.uk. He is also happy to circumcise non-Jewish babies.
At the circumcision, Jewish boys are also given their Hebrew names. Baby girls tend to be given their Jewish names in the synagogue on the Shabbat after their birth.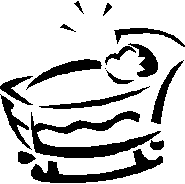 For more details on Jewish birth, circumcisions and related ceremonies such as Pidyon ha-Ben (redemption of the First Born), a very helpful site is Judaism 101 http://www.jewfaq.org/birth.htm. Please note this is an American site and some detail may differ from differ from custom in the UK.